Skip to Content
Commercial Trash Collection
Services for All Your Commercial Needs
Trash Taxi is a commercial trash company serving Bartow, Cherokee, Cobb, and Paulding counties in Georgia. In business since 2004, we are a local, family-owned and operated company that helps us understand the needs of companies in our area. Whether you are a small business or a large-scale commercial or industrial operation, our team can provide the containers and service to best handle your waste disposal and recycling in a cost-effective way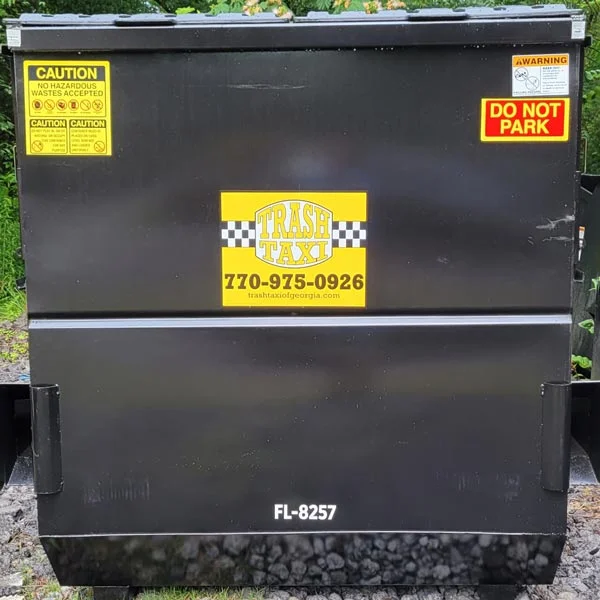 Affordable, Convenient Commercial Dumpsters
Whether our customers want waste containers for a massive construction project or daily operations, we customize a plan to meet their needs. We provide robust, long-lasting dumpsters so your business maintains cleanliness and safety. Trash Taxi of Georgia services include:
Roll-Off Dumpster Services: We provide 20, 30, and 40-yard roll-off dumpsters for commercial renovations, construction, and debris cleanup.
Front Load Dumpster Services: Our front load dumpsters come in sizes 4, 6, and 8 yards, perfect for placing your business's waste and collection.
Weekly Commercial Services: We'll provide your business with a waste and recycling container and come by for weekly trash pickups.
Serving Industries of All Kinds
Our team has experience serving a wide range of industries. From aiding manufacturers in streamlining their waste processes to making spaces more welcoming, our team is equipped with the containers and strategies needed to help. We help the following industries achieve success:
Industrial & Manufacturing
Our dumpsters enhance waste management, flow, and efficiency.
Restaurant
We offer environmentally friendly solutions that reduce waste and operating expenses.
Property Management
We will customize a waste management plan that meets you and your tenants' needs.
Construction & Demolition
Build or tear down a structure and ensure an easy, cost-cutting cleanup.
Colleges & Universities
Our team devises single-building and campus waste management plans.
Retail
We help mom-and-pop shops and large commercial retailers with customized waste solutions.
Faith-Based
Faith leaders and followers can rely on us to keep their sacred space tidy, welcoming, and respectful.
Hotels
Make your guests feel more at home and keep your hotel clean and inviting.
Entertainment
We help you keep your attendees stay engaged by handling your cleanup.
Agriculture
Our team is passionate about helping agricultural businesses become more eco-friendly and financially successful.
Your Dependable Trash & Waste Team
The workday is busy. With many concerns and responsibilities, you can't waste time, money, and energy worrying about your waste output and processes. Trash Taxi of Georgia takes that burden on ourselves for exceptional results. We have immense respect for local businesses, and our primary goal is to help them succeed. Our team will develop a waste management plan suited for your business and operations. We'll handle your trash so you can focus your attention on growth and prosperity.
Recycling for Businesses & Commercial Facilities
Trash Taxi of Georgia also provides recycling services, equipment, and resources for businesses. If you own or operate a commercial building and want an easy, efficient way to reuse your items, we can develop a plan for you. We can collect industrial scrap, office equipment, and other business-related materials. Our goal is to help businesses avoid the landfill and put their recyclable items to good use. After contacting us, our team will formulate a recycling plan that saves your business time, money, and energy.