Skip to Content
Residential Trash Collection
Residential Trash Company in Bartow, Cherokee, Cobb & Paulding Counties, GA
Trash Taxi of Georgia makes it easy for homeowners to get their trash picked up. We are a friendly neighborhood residential trash company serving Bartow, Cherokee, Cobb, and Paulding counties. Our family-owned and operated company has served our local communities for over 15 years. Our team specializes in providing durable containers to homeowners and collecting their waste and recyclable materials promptly. When you request a service, we'll meet you and devise a solution tailored to your needs.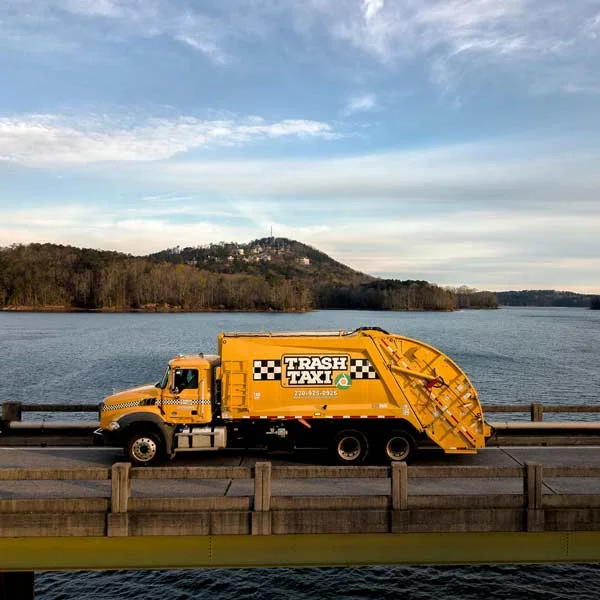 How Does Your Trash Pickup Process Work?
Trash Taxi of Georgia usually pick up residential customers' trash once a week. After scheduling a service, we'll deliver a 95-gallon rolling garbage can and a recycling container upon request. From there, all you need to do is fill up your containers and put them at the end of your driveway. You may place three additional bags on the sides of your containers for pickup. Please place your containers and three bags the night before we arrive. Please note that your account will have a 7% fuel charge.
Our Fast, Reliable Residential Trash Services
Whether you want to improve your home's efficiency or appearance, our team will care for you. We offer affordable waste containers to fulfill many services, including:
What Items Can You Pick Up?
Please be aware of the items our team can't accept. We refuse to pick up batteries because they are fire hazards that risk leaking chemicals and exploding. Old batteries are highly toxic and harm the environment, especially Lithium batteries. Weekly pickups and bulk item pickups are separate services. Bulk items include items too large to fit in your trashcan, such as mattresses, couches, or tables. You can contact our team to learn more about which items we can accept.